Factory "Rempobuttechnika" Ltd was founded in 1995 on the basis of "Rempobuttechnika" Factory. The company sells some of its products under the brand name of its subdivision "INTEGRAL" Trading House Ltd.
 Over the years, the company staff of about 200 highly qualified professionals have gained extensive experience in the development of telecommunications and mobile communications equipment as well as in a wide range of high quality sheet metal processing services of various complexity.
The company's infrastructure with both its production and research facilities located in the same premises adds up to its leading position in the market (among similar manufacturers).
  Our company provides a wide range of high quality sheet metal processing services (using its own or customer-provided material).
 CNC laser cutting of metal

 Sheet metal bending on CNC machines

 Coordinate punching on CNC punch press

 CNC operated guillotine cutting

 Milling and engraving by CNC machines

 Injection molding of plastics

 Turning and fitting

 Press stamping

 Semi-automatic welding (incl. argon welding)

 Powder coating
The company specializes in manufacturing, assembling and installation of a wide range of electronic products:
- 24/48/60V DC guaranteed power supply systems;
- rectifier modules with capacity ranging from 200 W to 3000 W;
- (АС-DC/AC or DC-AC) inverters with 300 VA—10kVA capacity;
- (DC/DC) voltage converters with capacity 200W to 1.8kW and above;
- Off-Line, Line-Interactive and On-Line UPS with output capacity from 300VA to 200kW and above;
- telecommunication and server cabinets of various modifications (indoor/outdoor);
- climate cabinets with ventilation and air conditioning system;
- mobile antennas for GSM, UMTS, LTE base stations;
- GSM, UMTS, LTE bandpass filters;
- antenna remote control units (RCU);
- cable line systems and accessories;
- distribution boards;
- metal enclosure boxes;
- printed circuit boards;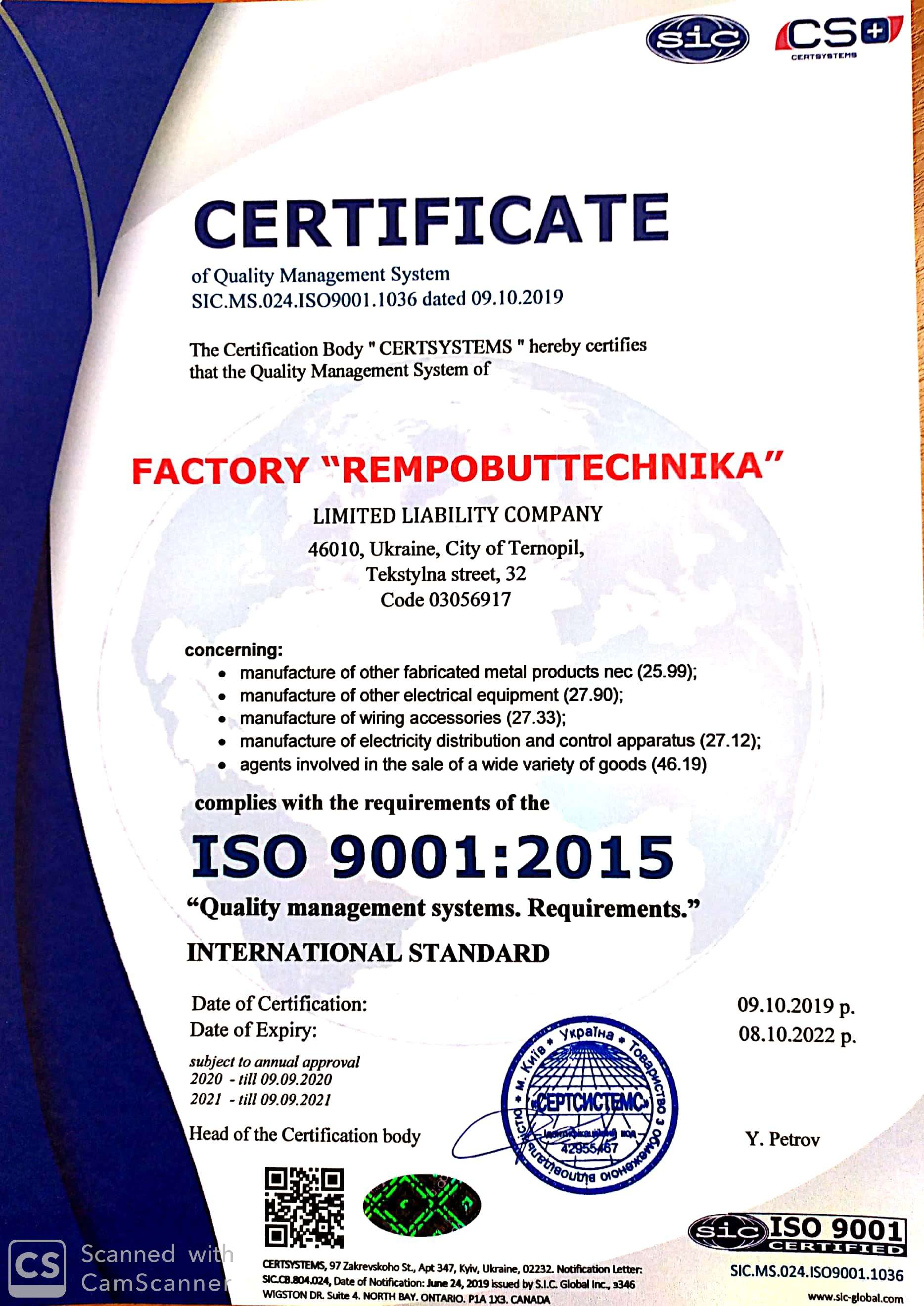 BENEFITS OF FACTORY "REMPOBUTTECHNIKA" LTD
 Our successful market activity is based on a comprehensive and detailed approach to meeting the needs of each client. As a result of constructive dialogue with the customer, we together create high-quality products with optimal technical parameters and reasonable prices. Our constructive dialogue with a customer results in creating high-quality products with optimal technical parameters and reasonable prices. The use of only proven materials from leading domestic and world manufacturers, relatively low prices combined with high quality, optimal lead times, flexible discount system—all these components have allowed us to hold leading positions in the market of metalworking services in Ukraine. The mission of the company is the fullest possible satisfaction of the needs of domestic and foreign customers and clients in high-quality services for metalworking and manufacturing of finished products that meet the highest world quality standards.
Our strategic goal is specified in the following:
- improving the quality and technical characteristics of products and parts, guaranteeing their long-term reliability;

- gradual increase in production volumes, expansion of the nomenclature of metalworking products;

- constant introduction of innovative technical and technological solutions ("know-how", modern inventions and innovation proposals);

- expanding the range of regular customers and partners;

- development of new types of metalworking services that meet world standards, through the introduction of advanced technologies and the use of the latest equipment from leading manufacturers.